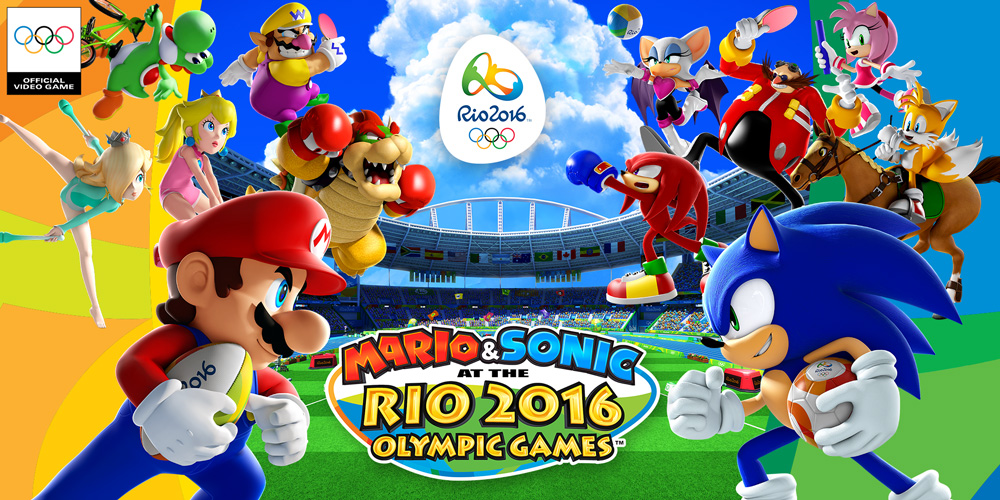 Image: RadioSega
Once every four years, we're treated to arguably the most spectacular world event: the Summer Olympics. This year was filled with unease, as up until days beforehand (and even quite possibly currently), infrastructure had not been entirely built, the Olympic Village was not the paradise athletes expected, and things like mosquitoes and toxic water levels threatened to ensure that nobody would have a good time.
That may still turn out to be the case, but luckily, there's an alternative that's a lot safer and still plenty of fun: Mario & Sonic at the Rio 2016 Olympic Games.
I've never played any of the previous installments in the series, but Nintendo was nice enough to send me a complimentary version of this one to check out. It's jam-packed with 14 different events (17 if you count some of the "doubles" matches that...well, double up on an existing one), with characters all throughout the Mario and Sonic universes available at your disposal.
The game opens with a montage of different events, but once you can control your character you have the option to do a series of either solo or multiplayer events. You'll have to channel your inner T-Pain here: "All I Do Is Win," because you'll need to take home first place in five events before you can actually qualify for the Games themselves.
Image: Nintendo
Luckily, that's not difficult to do at all. The majority of the games against the computer allow a bit of leeway–for example, in the BMX race, I slipped on two consecutive oil slicks and fell far into last place, but still had plenty of time to come back and take home an easy victory.
Anytime you win an event in any capacity, you'll take home coins and rings. Earn enough and you can get new outfits for your character, which ups your abilities. You're also able to earn flags and tips by talking to other Miis running around on the main beach. While this collection goal can be a bit tedious, each Mii offers a fun fact about their country. Not everyone knows the Ivory Coast is the world leader in chocolate production, for instance, so it's a cool way to try and educate gamers of all ages that, hey, there's a great big world out there, let's try and enjoy it.
Once you qualify for the Olympics, a monument with some Toads pops up. Chatting with Toad allows you to compete in different tournaments against other players. Again, winning here earns you more coins and rings, and you can improve your Mii. That's important, because during the Olympic events, you can't use any characters from the Mario and Sonic franchises; you have to use your Mii. The difficulty ramps up a bit here–it's not nearly as easy to coast to gold after gold, though the challenge isn't going to make you throw your controller out the window.
Image: Nintendo
As for the games themselves, a screen appears the first time you do the event, providing instructions on how to emerge victorious. A few times I found myself not really understanding what to do as I began, but once things got rolling it's pretty intuitive. On-screen button commands also appear on the screen in case you've forgotten what you're supposed to be doing.
As with any kind of party game like this, certain events are a lot more fun than others. I'm a big fan of the longer events–the BMX and Equestrian ones give you some wiggle room to be creative–and the Archery event, which featured different targets popping up and moving around, was also very fun. Who knew a giant tie-sporting ape had such precision bow and arrow skills?
Overall, Mario & Sonic at the Rio 2016 Olympic Games isn't going to revolutionize gaming, but it's not setting out to do that. For a good way to celebrate the Olympics and have some fun building up your Mii, it's worth checking out, especially if you have family or friends to participate with. The online capabilities are nice, but it's so much more satisfying defeating someone in the same room.
(Review copy provided by Golin)
Platform: Nintendo Wii U and Nintendo 3DS (this review is for the Wii U version)
Developer: SEGA
Publisher: Nintendo
Players: 1-4
Release Date: June 24, 2016
Price: $59.99
Score: 4/5